Virginia Woolf famously wrote that in order to write, a woman needs a room of her own. I'm lucky enough to have two – a cozy office with bookshelves that reach to the ceiling, and a sunroom that looks onto a tangled green backyard surrounded by trees. These are the places I feel at peace, where I can shut out the world for a time and focus on bringing my inner world, my writing world, out into life.
Unfortunately, neither are portable. While I have written in hotel rooms, on Amtrak trains, at writers' retreats, in campgrounds, and even in bars, a rooted place has always felt most natural to me, most like home. So when I put together a research trip to Scotland for my upcoming novel, I went searching for a base camp, too.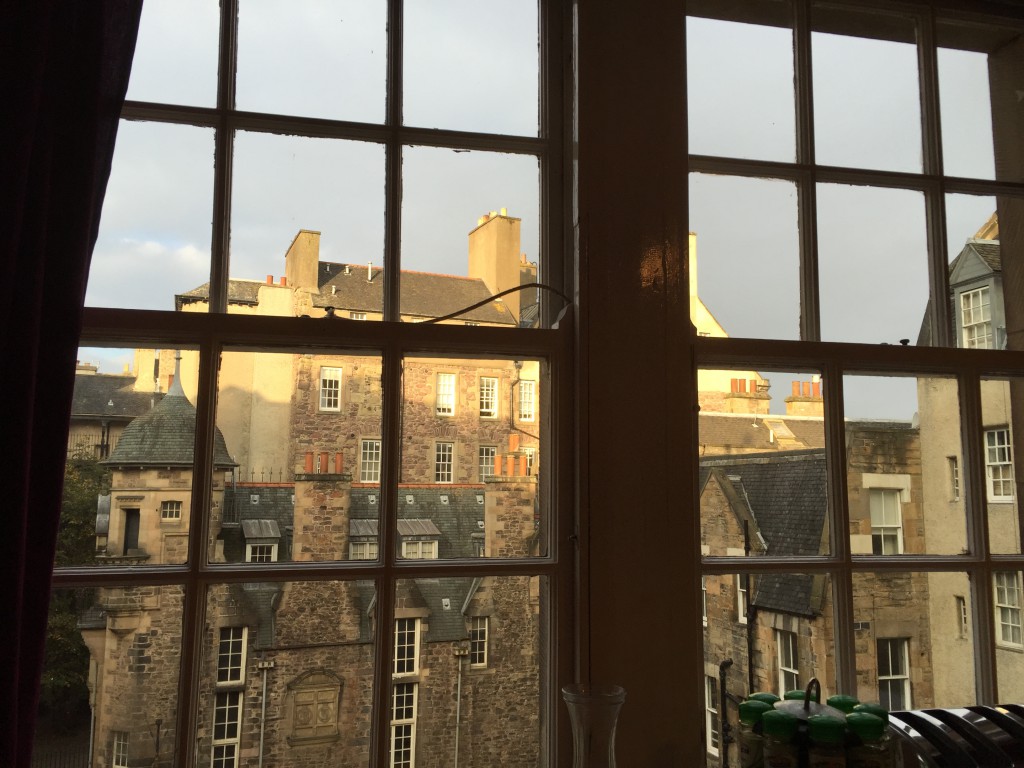 Within seconds of launching into my first AirBnB search, it was love at first sight. A perfect, snug little hideaway of a flat just steps off of Edinburgh's Royal Mile. From here, I could easily walk to both the National Records of Scotland and the National Library of Scotland, two key sites for my research. There was a tiny galley kitchen, a comfortable bedroom, books and DVDs to keep myself entertained should I need them. Shops and restaurants stood within easy reach. The building itself had stood for over a century, and looked likely to stand for several more. I booked it straightaway.
The feeling I had when I stepped through the door went beyond "charm" and "character." Yes, the flat had both, with its large windows of antique glass, thick stone walls, and utter lack of elevator (the flat stood on the 5th floor). But the appeal went beyond mere aesthetics.
Here, the space was mine, and mine alone – there was no schedule, no set times when coffee would be available or breakfast served. I could write and order my days as I pleased, breakfasting in my pajamas if I so desired on whatever lovely foods I brought up from the local market. (Scottish sausages, coffee, toast, and fresh eggs most mornings.)
I had a sense of space that was not sterile, but would be filled with the day's rhythm of activities and the city around me. I had solitude and independence, but not isolation. If it wasn't home, it was the next best thing. And I wrote and dreamt and pondered and wrote some more.
When I returned home, I finished the first draft of my novel within the month. I can't say it was all due to AirBnB magic, but having a room of my own in what's become one of my favorite cities certainly helped.
Disclaimer: This post is a statement of personal opinion, and is not an official endorsement of AirBnB services. No financial compensation, goods, or services have been received in exchange for this post.