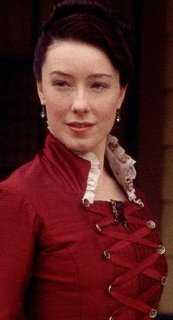 In May, HBO's Deadwood made a long-anticipated return in a film that reunited many original cast members and tied up lingering story lines that had languished since the show's abrupt end in 2006. I've long been a fan of the series, which has some of the best writing and most memorable characters I've seen on television. While the dialogue is notoriously profanity-laden and the show often veers into unflinching brutality, at its core Deadwood is a story about community. It's about what civilization and compassion looks like in a world that rarely rewards either.
In fact, the gamblers, gunslingers, and adventurers of the fictional Deadwood inspired my visit to the South Dakota town – and a night spent in the haunted Bullock Hotel – during the cross-country roadtrip that prompted this blog. 
To celebrate the Deadwood movie, a theme dinner was in order. 
Menu:
Golden Sweet Cornbread
Blistered Green Beans
Vegetable Fried Rice (a nod to Mr. Wu and Deadwood's Chinese community)
Flame-Grilled Steak
Peach Cobbler with (Unauthorized) Cinnamon 
The amateur mixologist in me seized the opportunity to create a cocktail in honor of the occasion. Thus was born the Alma Garrett. Like it's namesake, the drink is complex and nuanced, with a flair for understated drama. Besides, a character tough enough to refuse to be cowed by her husband's murder, overcome a reliance on opium, take in an orphaned child, found Deadwood's first bank (backed by the strength of her own gold claim), and train a former brothel worker to be her first teller deserves to have a glass raised in her honor. Not to mention, her impossible romance with town sheriff Seth Bullock. Alma, this one's for you.
I took inspiration from the classic French cocktail, kir, which blends white wine with blackcurrant liqueur. But instead of the liqueur, I substituted a blackberry shrub. Why shrub? And why blackberry?
Historically, shrubs were popular in the 19th-century United States. Made by blending vinegar with berries or fruits, shrubs served as flavorings as well as a means of preservation. I liked the idea of using shrub as a throwback ingredient that could be reminiscent of something Alma herself may have sampled. But rather than a cultivated fruit like peaches, strawberries, or raspberries, I wanted a flavor that hinted at the frontier. I wanted something wild. After all, Deadwood is a place where town boss Al Swearengen and Gem Saloon proprietor dispenses advice along the likes of:
"The world ends when you're dead. Until then, you got more punishment in store. Stand it like a man. And give some back."
That's Al's idea of a pep talk.
Using my blackberry shrub as a base (I riffed on this summer fruit shrub recipe from The New York Times), I had a little fun with mixology. Alma's character has an air of elegance, sophistication, and fashion, even in the rough environs of Deadwood. She strikes me as a woman who would appreciate a taste of Paris wherever she was. So I subbed my shrub for blackcurrant liqueur, topped it off with a sparkling white wine, added a few fresh berries for garnish, and voila! The Alma Garrett.
The result? Magnifique!
Want to make your own? Here's the recipe!
Alma Garrett
1 part Blackberry Shrub (instructions listed below)
3 parts sparkling white wine (Moscato, or use champagne for a twist on a kir royale)
Fresh blackberries to garnish
Blackberry Shrub: Crush 8 ounces fresh blackberries in a glass or porcelain bowl (don't use metal or plastic). Add 1/3 cup granulated sugar. Mix well, until berries are pulpy and the sugar is nearly dissolved. Cover with plastic wrap and chill overnight. Uncover, stir well, and add 1/3 cup apple cider vinegar. Stir again and refrigerate for several days (up to 1 week). When ready to use, strain the shrub through a fine sieve or cheesecloth into a clean Mason jar or bowl. You want to retain the liquid and remove seeds and fruit pulp. Store unused shrub in the refrigerator.
To make the cocktail: Measure the shrub into a champagne flute. Top with sparkling wine. Garnish with fresh berries and serve at once.