For years, Paris has lived on my bucket list. Decades, actually – ever since my first high school French class, when the very first French sentence I spoke was Paris est la capital de la France. Uttering those words felt very foreign. Very exciting. Very adventurous. And at last, two university degrees, nine job changes, a marriage, and three relocations later, I was going to go to Paris.
My husband and I touched down at Charles de Gaul airport on a sunny September morning. Despite our jetlag, with the help of Google and my high school French we navigated the local train service and then the subway, suitcases in tow, to emerge triumphantly from the Tour-Maubourg metro station in the 7th arrondisement. My first sight of Paris was a beautiful building facade, its windows shining in the midday sun. To my left was a bubbling fountain, and beyond that, a small shaded park. And in that moment, instantly and totally, I was in love.
Before we go further, to avoid disappointment if the following aren't mentioned, let me disclose what I didn't do:
Tour the Louvre

Shop the Champs-Elysees

Visit the Moulin Rouge (or anywhere else in Montmartre)

Wear a beret
Hardly anyone wears a beret in Paris. And of those who did, I suspect they were mainly tourists.
Having lived in Washington DC, a city that attracts its own fair share of visitors, I know that sightseeing often creates photo opportunities but not a true sense of place. I did concede to taking an open-top Big Bus tour, and happily grabbed shots of Notre Dame, the Paris Opera, and various monuments. But I also insisted that we hop off to walk in the Tuileries Gardens, and to visit the art and booksellers with their stalls along the Left Bank of the Seine. And we did join the crowds who flock to Versailles.
From its golden gates to the sprawling palace with its famed Hall of Mirrors to acres of artificial lakes, fountains, and formal gardens, Versailles is built to astound. And it does. But not even that power and splendor could prevent Louis XVI, and his Austrian-born wife Marie Antoinette, from meeting the blade of the guillotine. 
I could not see Versailles without thinking of the bloodshed of French Revolution. I could not look at Notre Dame without remembering the terrible acts of religious violence that have marked Paris. Even the Eiffel Tower is not immune – today its lights sparkle in the Paris night, but during the German occupation of Paris in World War II, daring residents cut the elevator cables so that Adolf Hitler would be unable to get to the top of the monument unless he climbed it. (So far as we know, he never did.) 
For Paris is a city that shows the magnificence of humanity, but also our cruelty. I did not want to be a careless visitor, one who saw only Paris' beauty and forgot what suffering had occurred among its boulevards and parks.
So what did I do in Paris? I walked. I ate in bistros and cafes – lots of them. My husband and I strolled along the banks of the Seine at night and watched as the city lights reflected in its dark waters. We sought out the spot where medieval pilgrims left Paris to begin the long journey to the shrine of Santiago de Compostela. I indulged in all sorts of carbs: crepes, croissants, wine. I visited a bookstore and purchased the Paris Snob Guide, 1967 edition.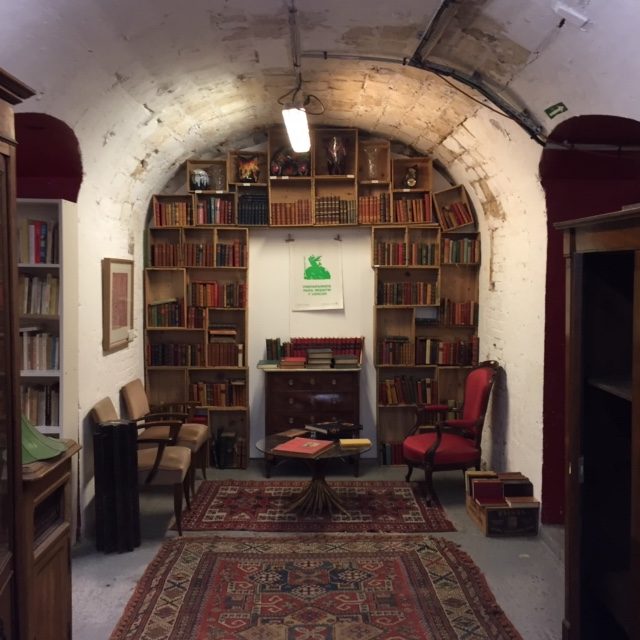 I even spoke a little French. It was uncanny to be able to understand much more of a a language than I could express. I listened to waiters or department store staff or radio DJs, and I had a sense of the conversation. But I didn't have the spoken fluency to be able to answer. Sometimes the Parisians defaulted to English. Sometimes there was pantomime. Sometimes we had a hybrid conversation that switched between languages. My best French moment was probably a request to the concierge for a new hairdryer. We did it entirely in French, even the bit where he explained to me that the room key needed to be inserted in the slot for the light switch. And I responded, in French, that yes, we did that, and no, the hairdryer didn't work and hadn't worked since we checked in. He kindly found me another one. 
And I watched Parisians. The daring motorcyclists and scooter riders zipping through traffic. A dad and his toddler son at the cafe opposite ours one evening. The man calmly smoked with the baby in his stroller beside the table. When the child grew restless, dad lifted him out and set him on a chair, and continued with his cigarette. The businessman in a park who, having finished his lunch, took off his suit jacket and laid it on the grass. He then lay back and rested for the remainder of his lunch hour. At its conclusion, he picked up his jacket, shook it off, and returned to work.
One of my favorite things about travel is the chance to see people in other parts of the world living their lives. And, perhaps, to step into an alternate version of my own.
The version where I wake to new foods, new sounds, new things to see. 
And perhaps, just perhaps, I stepped closer not only to the person I aspire to be, but to a more authentic version of myself. The self that watches. The self that writes. On the morning of our last day there, I was up early. I opened the windows so that I could sit on the bed and gaze out at the cathedral opposite. It holds the tomb of Napoleon Bonaparte. Six stories below, Parisians moved toward the city center on their morning commute. I opened my journal, picked up a pen, and knew that I was exactly where I was supposed to be. 
Next Month: American Abroad, Part 2, with adventures on the French Riviera.