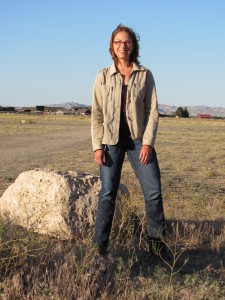 Roadtrips are as American as apple pie. There comes a point-probably many points-where we have to go through the rite of passage to pack up the car, top off the gas tank, pile in the CDs, and drive off in search of adventure.
In less than 72 hours I'm diving deep into this fantasyland myself. For the past 10 years I have daydreamed about exploring the reaches of the Far West. Maybe it was the result of growing up with too much Little House on the Prairie. Maybe it's because as an East Coaster, I was (and continue to be) fascinated by any place where the horizon goes on unbroken. Or perhaps I am finally getting around to taking Horace Greeley's advice, issued to disaffected DC denizens almost a century and a half ago, to "Go West!"
I'm not sure what Lewis and Clark were thinking as they rode West and into the unknown, or what went through the mind of kids trying their luck as Pony Express riders, or immigrants who packed their bags and their hopes and traveled towards the setting sun. My trip is going to be an easy one in comparison, my route neatly laid out in Google maps, my car stocked with snacks and air conditioning, and my gear designed with all the technological advancements of the past two centuries. No canvas tents or itchy wool or nasty hardtack biscuits. I'm only a temporary pioneer.
The places I intend to see are iconic. Texas, larger than life and as John Steinbeck once said "a state of mind." Dodge City, KS. Cody, WY, which has had a summertime rodeo going strong since the 1930s and performers who reenact frontier gunfights every evening. Bozeman, MT, which people say is beautiful as God's own country. And finally, Deadwood, SD made famous by the TV miniseries and where the hotel owned by the town's former sheriff still stands and is reportedly haunted by his ghost.
This is where I'm headed, into the dust and memories, where past and present and future overlap. Once upon a time…and off into the sunset.