There comes a point in every woman's life when she has simply had enough. When a yoga session or a shot of whiskey (or kombucha) or ugly crying while listening to Adele simply won't cut it. When griping to friends, or a therapist, can no longer suffice. When the situation requires stronger, more drastic, more radical measures. Measures that some might say are selfish. Measures that might not be life-changing, but certainly bend it, make it less rigid.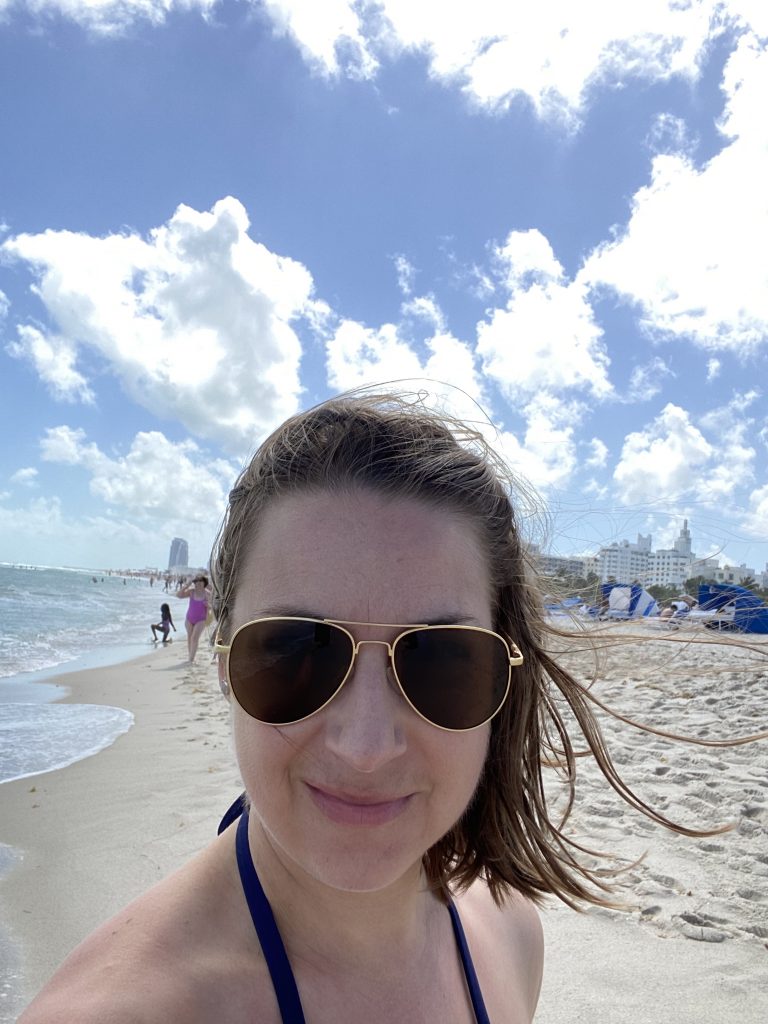 I reached that point earlier this month.
But before I proceed to describe my mid-life Spring Break, I acknowledge that I am damn lucky, and privileged, to have even had the option. It was with excitement and guilt and second-guessing that I bought my ticket, booked my hotel, stepped onto an airplane.
Yet I knew, in my bones, that it was time. It had been, after all, two plus years of living alone, working from home, cooking and eating hundreds of meals in solitude. At times I reveled in the silence; at other moments, I felt profoundly isolated.
There was being laid off, and then working two jobs, and then worrying if I needed to start panic buying toilet paper and canned goods.
There was the death of my grandmother from COVID-19.
There is near-endless uncertainty.
And there is my dog, my sweet, lovable, wonderful dog, who has chronic medical issues that require both regular visits to a veterinary dermatologist and an array of treatments that makes my head spin.
I needed out. Just for a little while. But I most certainly needed out.
My destination: Miami. Hot, sunny, Spanish-speaking Miami. Miami, of sandy beaches and spring breakers. (One of my Uber drivers, God bless him, actually asked if I was on spring break. Yes, I look younger than I am, but not that young…so either my mask hides a lot, or he really needed a good tip.)
My plan: Do as little as possible. I'd never visited Miami Beach before and had few preconceived notions of what to expect, beyond palm trees and heat. (I was not disappointed in either).
My outbound flights took me through New York, via JFK. It was a cold but gloriously sunny day, and as the plane began its descent, all of New York Harbor, with its ships and patches of ice floating in the waves, was visible from the plane window. I almost started to weep. The sense of openness, of possibility, of freedom was overwhelming. I was moving again. And a part of my soul that I'd been missing came winging back.
Touching down in Miami several hours later, night had fallen. I stared out of the cab's window like a country bumpkin as I was driven from the airport.  Air conditioning in March was a novelty to me, as was the city lights, the water, the boats, the neon illumination. I drank it all in.
And I accomplished what I'd set out to do.
I spent hours in the sun, either poolside or at the beach. The ocean, which I had not seen in years, looked sublimely beautiful. Its colors, the light, the breeze all forms of magic. I felt the salt water on my skin, let the waves lift and carry me as I faced the sky and felt wonderfully, madly, happy.
I wasn't entirely still, of course. I walked. A lot. From the Lincoln Road Mall to the Miami Botanical Gardens to the bougie juice bar where I paid $10 for some cold-pressed concoction of superfoods. One morning I biked the entire length of Ocean Drive. I visited Little Havana, bought cigars, drank rich and wonderful Cuban coffee and ate a guava pastry and spent the rest of the day practically high from the mix of caffeine and sugar.
And the heat. I'd left gray skies and freezing temperatures behind me. Light and warmth was what I wanted. And so I let my toes and legs and shoulders go bare, only to find that my skin could tolerate frustratingly small doses of the sunshine. Too much overwhelmed even my SPF-loaded lotions and I had to retreat indoors or under shade.
Yet there was, as is always hoped for with vacations, a blessed release from obligations. I took this a step further and seized upon what felt like a revolutionary level of autonomy. I answered to no one. There was no other party with whom to coordinate plans, discuss dinner options, or agree upon an itinerary. I ate when I wanted, slept when I wanted, woke when I wanted. It was the best thing I could have done for myself.
I was not alone in this. I saw other solo women: sunbathing at the beach, having appetizers and wine on the terrace, going about their days. I shared smiles with some of them. Because this is our world, too. And we had decided, singly and boldly, to put our feet down.
Postscript:
I remained fully aware of global events transpiring during, and after, my travels. I've proudly given support to the Ukrainian Red Cross, Doctors Without Borders, Come Back Alive, and other humanitarian organizations.
The Kyiv Independent provides English-language coverage of events in Ukraine.
You can also view amazing art from Ukrainian artists and illustrators showing their perspectives on events in their country.