Five years ago, in what seems a different lifetime, I moved the Pittsburgh. I bought a house (in a nice neighborhood), had a job (with a Fortune 500 company), had a marriage, had future plans. In short, my life had all the right optics.
But what my life had in appearances, it lacked in authenticity. I lived in Pittsburgh. But I didn't know the city. Didn't have history with it. And I didn't know myself, in many ways. That was the lesson of the pandemic: to scrape away ballast, to look deep into the heart of things, to mourn and rebuild. To learn what I couldn't live without. To learn what I had to go and find again after having lost it. To recognize what I needed to discover for the first time after never having known it at all.
I hunkered down. I watched, I listened, I waited. Shifting one's center of gravity is slow work. I found a new house, sought new connections, eventually landed a new job. Through murky weeks, months, years, I got to my feet again – literally – and asked myself, "Now what?"
On purpose, I walked to the post office, the used bookstore, an independent coffee shop. Not because I needed those services; I needed the interactions. Sometimes I took my German Shepherd Rosie with me, and I found that dogs are really the best icebreakers.
In short order, Rosie charmed the local bakery into giving her free cookies. She then won the hearts of the staff at the corner florist, who allow her into the store and dote on her with pets. Her most recent conquest is the clerks at the state store, who give me handfuls of treats to feed her and say what a good dog she is.
And over time, little tendrils of community formed. I learned my neighborhood, on foot. I saw the house with the potbellied pigs on Windermere Avenue, which is something of a local legend. I was shouted at from a vehicle and looked up, startled, to see it was a woman I knew from one of the area businesses. Laughing, I waved back. I saw restaurants open and close and discussed the changes with fellow residents. I had random conversations with elderly neighbors from my front porch, an experience which felt both novel and old-fashioned. Each of these a step, a thread, that brought me a bit closer to knowing and being known.
From there I ventured further afield. Some trips took me to parts of the city that were new to me: a trendy rooftop bar, microbreweries, parks where I kayaked or hiked or rode my bike. I revisited places I knew from visits to Pittsburgh during my childhood: Schenley Park, the Carnegie Museums. The Strip District with its wholesale businesses and rapidly gentrifying residential element. And I saw Pittsburgh in all its maddening charm: the nonsensical public transit system, the hills, the rivers, the vernacular, the people who will wear flip flops in 30-degree weather. The vendors at Trader Jack's flea market, the hipsters in East Liberty, the old Italian guys who commandeer tables at La Prima coffee and gossip and play cards for hours.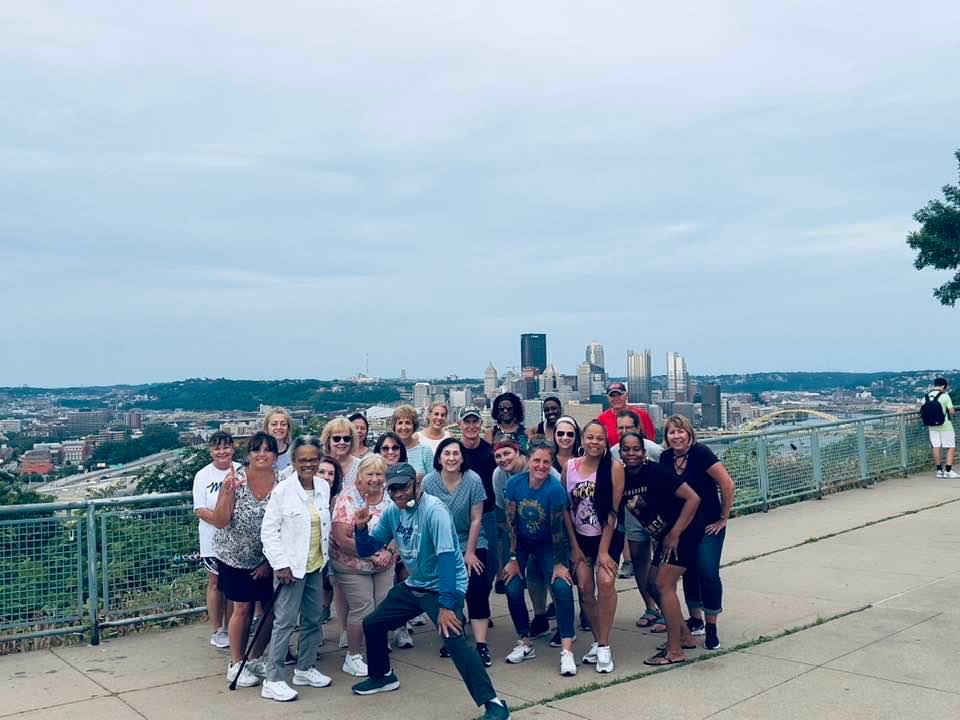 It came to this: not just conversations and places, or experiences, but a feeling that I was part of something (again). Finding causes. Finding people who cared about the world and wanted to do something about it. Finding organizations where my give-a-d*mn could find a home, and fellow company. Finding that it was OK to be hopeful, to believe in better, because I wasn't the only one. I hold those discoveries close, as buoys in dark times.
I don't know when it was that I finally fell to earth. It could have been the morning at Enrico's Bakery, when I was blatantly cut in line by an entitled Boomer (I called him out – he ignored me); I figure you can't really say you lived in a place until something happens to royally piss you off. It might have been during a session of yoga at a soaring Presbyterian church, with light streaming through the windows and casting brilliant colors onto the transept floor. And it struck me that no matter what anyone in that room believed, we had all found our way to the same space. Could have happened when I found gifts left on my doorstep: a bouquet of flowers, treats for my pets, a container of fresh-picked blueberries. Such gestures of kindness never ceased to leave me surprised, and touched. Maybe it was seeing the amateur astronomer on Mt. Washington who brings out his telescope and invites passerby to look through it. Perhaps it was the June evening I spent dancing with strangers when I heard "Lady Soul" by the Temptations for the first time and the city skyline shimmered behind us. Or a hot afternoon next to the Mon River, sitting on a driftwood log, catching my breath and feeling a moment about to shift.
So while I'm not sure what point marked the precise threshold of coming back, I can say with gratitude that I am. Present. Breathing deep. Grounded.